Karisilankanni - Bhringraj in Tamil
Bhringraj is called Karisilankanni (கரிசிலாங்கண்ணி) in Tamil. Learned men call it with the clumsy name of Eclipta Alba,
It is a wonderful herb that is most beneficial for natural hair care.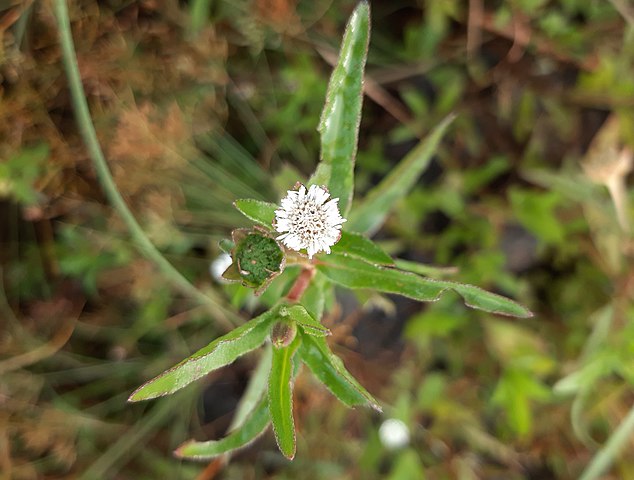 Bhringraj generally grows in the wild during the rainy season and in rice plantations it is considered a weed!
Bhringraj or Karisilankanni has an exceptional and dramatic effect in 
arresting hair fall
increasing hair volume
preventing premature greying of hair and
delaying greying of hair in middle aged people
Karisilankanni is used in herbal hair oil preparations in conjunction with amla fruits, fenugreek seeds, curry leaves, hibiscus flowers and leaves, henna (called Marudani in Tamil) and several herbs.
The idea is to grind different herbs into a nice chutney and then dry them in the sun to create herbal cakes.
Then these dried cakes are steeped in some carrier oil like Coconut Oil or Almond Oil or Sesame Oil to prepare a herbal hair oil. You can see below our method for preparing herbal hair oil.
(reprinted with permission from https://soapandoil.com)
Step by step  How To - For Making A Traditional Herbal Hair Oil
---
Hair Oil vs Carrier Oil
In general Hair Oil is considerably more expensive than the underlying carrier oil. For example, organic cold pressed coconut oil costs around 450 rs /litre OR 45 for 100ml. But most herbal hair oils cost upwards of 200 for 100ml. So we shell out a lot more for a herbal hair oil than we do for the base oil. In addition we do not know how the herbs were stored or harvested when we buy a finished product.
So it makes a lot of sense to buy a good organic oil online and then make the herbal paste ourselves. But there is a lot of confusing and scattered information all over the internet about what ingredients to add to our oil. So it makes sense to document a proper recipe of a herbal hair oil.
We listened to many grandmothers of South India and identified a traditional method that not only preserves all the goodness of the herbs, but also retains the vitamins and minerals in your cold pressed oil. We have also used herbs that are easy to access in India.
We have used Cold Pressed Organic Coconut Oil from Purva Naturals for our preparation. They make very good cold pressed, single crush organic edible oils. For hair care and skin care, we should only use food-grade oils that are both cold pressed and organic - using other refined oils is a total waste of time and energy. One can also use Organic Sesame Oil or Almond Oil or Jojoba Oil or a mix of other oils. But in our experience, coconut oil OR sesame oil is the best for a herbal hair oil preparation
Choice of Herbs
There are  many herbs that bless the hair with their natural goodness including amla fruits, methi dana, indigo, henna, wasabi, curry leaves, thumba, dwarf copperleaf, bhringraj, shallops, lokhi and so on.  We have shortlisted
Amla fruits
Curry leaves
Fenugreek seeds (Methi Dana)
Bhringraj  - The True King of hair care - (eclipta alba - Karisilankanni in Tamil).
Henna Leaves
Hibiscus Leaves
Hibiscus Flowers
How not-to Make Oil
Most how-to guides on herbal hair oil preparation recommend one of two methods
Method A
Soak the herbs overnight
Grind them in a powerful blender
Heat the carrier oil
Fry the paste in the oil
Method B
Soak the herbs overnight
Grind them in a powerful blender
Sun dry this paste
Heat the carrier oil
Fry the paste in the oil
The above methods are not  efficient and we won't recommend them. The vitamins in the oils and the herbs can be lost while frying/heating and secondly there will be quite a bit of oil lost in the process of heating (around 20-25%)
How to Make Hair Oil
The traditional way that grandmothers make this is explained below
Ingredients (for 5 Litres of Hair Oil)
---

[These weights are of un-dried fresh leaves]
Bhringraj Leaves - 150 g
Curry Leaves - 100 g
Henna Leaves - 100 g
Fenugreek Seeds - 50g (dry weight - bought from store)
Hibiscus flowers (dried or fresh) - 10 -12
Hibiscus leaves - 25-30
Amla fruits - 500 g
And  Base Oil - 7 Litres (organic, cold pressed coconut oil OR organic cold pressed sesame oil)
Step 1 - Soak amla fruits for an hour or two in cold RO water and de-seed them. Cut them into fine pieces. Grind it into a paste and keep aside
Step 2 - Soak fenugreek seeds overnight and filter the water out (about 8 - 10 hours will make the seeds very soft and malleable). Grind it into a very fine paste
Step 3 - Grind all other ingredients (except oil of course!) with a small quantity of water (if required) and make it into a paste
Step 4 - Mix all 3 pastes together and make it into small vada (doughnut) like cakes
Step 5 - In a stainless steel plate, shade dry these cakes - (they have to be close to the sunlight but not directly exposed to the light - see picture)
You may have to dry these cakes for 3 days (depending on the temperature of the sun etc) - make sure they are very dry.. [when we made the above quantity the final cakes weighed only a total of 250 grams!]
Step 6 - When you have the herbal cakes fully dry and ready, warm about 5 litres of base oil (we used organic cold pressed coconut oil from  Purva Naturals - sesame oil would work as well..probably better!) - the ratio we use is 5% dried herbal cake (that is we put 1 litre of coconut oil for every 50g of herbal cake) .. more than this would be a very concentrated hair oil and the user may catch a cold!
Step 7 - Steep the cakes in warm oil for 4-5 days for all the herbs to seep into the oil - it will turn black and smell gloriously to heaven! If weather permits you should keep the steeping oil in the sun for a few hours everyday (this will make it super effective)
This is by far the best hair oil one can make at a very affordable price - it can be used both as a pre-shampoo hair mask and also as a post shampoo leave-in oil. Recommended to use twice a week .. this will prevent hair fall, deter dandruff, nourish the hair strand and follicles and also help in taming frizz, making hair dense etc
This has a very long shelf-life and can be used for 12-15 months easily.